In early Oct. of 2007, on a whim I typed in, "Shroud of Turin," on eBay. What happened next is almost as incredible as seeing the Shroud photo my camera took in 1998.
There was a seven day listing of an item that had six hours left before the auction closed. It was an original 1898 Secondo Pia photo of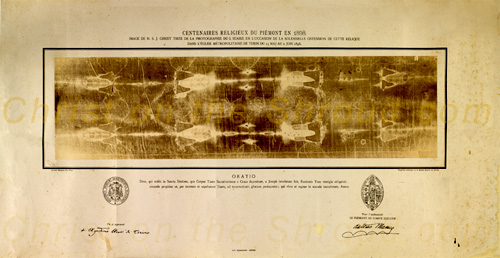 the negative image of the Shroud mounted on soft cardboard with a seal of authentication on the photo itself. The entire card measures 28×14; the photo alone is 20½ inches x 5½ inches!
No one has been able to provide all the details, but speculation is that it was offered as a "carte de visite" to dignitaries who observed the Shroud in 1898. I have translated the French and the Latin prayer has been translated as well. I am making copies available with or without the backing and in various sizes. This coupled with my miraculous 1998 photo will truly be the greatest photos ever sold! The story continues…
The day after the auction closed I went back to eBay and typed in, "Esquire Magazine August, 1971." This was the original issue where I first became aware of the Shroud. No items were available, but I did a search for, "Completed Listings Only." One item came up, but it had closed with no bids on Sept., 26, my mother's birthday. I immediately sent the owner an email asking if the item was still available. It was re-listed the next day and I bought it.
April 24 – Date I saw the Shroud